Often, usually, in fact, I end up going down the rabbit hole when I begin a blog post. This one was no exception, and it's even a prime example. I photographed this statue of a prospector in downtown Denver as I was on my way to photograph the No.2 Pencil Smokestack I wrote about a couple of weeks ago.
The inscription on the plaque in front of the statues says:
The Old Prospector
In 1891, this 12ft high, 490lb. hand made copper statue was erected on the top of the seven storey Colorado Gold Mining Stock Exchange building, on this site until 1962. The sculptor, Alphonse Pelzer, modeled this statue after flamboyant and colorful "Colonel" John William Straughn, a civil war veteran, prospector and wheelwright who lived from 1842-1902. The statue symbolizes industry, patience and enterprise.
I'd never even heard of the Old Prospector Statue before seeing it and taking the above photo. But once I began digging into (pun intended) its history, I realized I needed to write a three-prong post about it.
So, first prong: its current and former locations.
It now stands in front of the Brooks Tower Residences, a condo high-rise on 15th Street downtown Denver. However, its former location was atop the old Colorado Gold Mining Stock Exchange building. That building was less than a block away from where the sculpture now stands (and about three blocks from the No. 2 Pencil Smokestack), but it was torn down in 1962 to make way for the condos. What a shame, because the Mining Exchange building was quite something in its day.
Here's a picture (not mine, of course) of what it looked like – you can see the Old Prospector on top of the tower: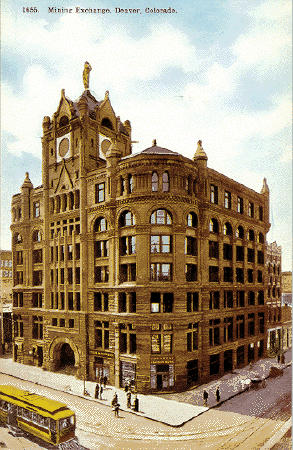 In the latter part of the 1880s, there was a gold boom in Colorado and some wealthy miners had the building constructed. They were probably thinking it would be well to have the gold stock exchange in the neighborhood. It was opened in 1891 and housed the Colorado Mining Stock Exchange plus a bank. In addition, it was home to the Mining Record, a weekly mining magazine that still exists today.
And, if mining and finance is your thing, check out this lengthy treatise about Colorado's mining and related finance history here. And I also found this link to a site hilariously called Ragged Ass Miners by the Denver Mining Club.
Anyway, the old Mining Exchange building must have been a sight to see! Here's a description I found in Colorado Magazine of April 1962, which also contains a physical description of the Old Prospector statue (keep in mind this was written the year before they tore the building down):
The Mining Exchange Building was one of the most ornamented buildings in the world, and it was the first to be designed and devoted exclusively to mining activities. The entire structure, including the grounds, cost $450,000…The building is of red stone granite and pressed brick and was entirely completed in 1892. There are seven stories: the first floor contained offices, a store, and a bank; the second floor had the famous stock exchange, which was in a hall 50 x 70 feet, with a ceiling 30 feet high. The walls of this room were heavily paneled. The exchange also had a large exhibition space for the display of minerals, a telegraph office, and other accessories. A gallery above the hall was for visitors to observe the trading. The fourth and sixth floors consisted of offices, while the seventh floor was used as a club room with a cafe. Transportation was by two elevators, both of which led to the observation tower and carried passengers to this point for a fee of fifteen cents. The entire construction was unique: the first, second, and third stories were of red sandstone; the fourth, fifth, and sixth, of pressed brick, while the seventh consisted of a stone colonnade. The building was covered with a red tile roof, topped by a square tower. The walls of the tower still have eight heads of Hercules, the famous Greek hero…Four gargoyles project from the corners of the square tower, extending downward from the gutter.

The statue, on top of the tower, stands 165 feet high from the sidewalk. The material in the statue is sheet copper, which weighs thirty-two ounces to the square foot and was finished to resemble antique brass. The cost of the statue was one thousand dollars. It is twelve feet high, showing a bronze prospector standing in an easy attitude, with one hand resting on the handle of a pick. In his other hand he holds a mineral specimen which he has discovered. The entire figure symbolized industry, patience, and enterprise-the reward of honest toil. All is exemplified by the bright gold the man holds in his hand. The statue, characteristic of a prospector, has originality. It was placed in position in 1891.

The main entrance of the Mining Exchange Building is of interest for it consists of a semicircular archway with the life-sized head of a bull on one side and that of a bear on the other side. The bear operates for a decline in stocks, while the bull represents one who tries to raise prices in the stock market. The vestibule was finished with hardwood and marble, with some stained glass. A winding stairway with cast iron rails led upward from the lobby. The pilasters were of polished granite.

In 1938, the nugget in the hand of the prospector was coated with gold leaf; in 1939, the entire statue underwent a cleaning, gold lacquer was sprayed over it…A fire, in 1939, caused a fifteen thousand dollar damage to the interior of the building…The interior of the building underwent a remodeling in 1953 and 1954, at a cost of $200,000. It now has one hundred and thirty offices and seven retail stores. The old mining exchange hall is now used for dances. There is an air of nostalgia about the entire building, which is surrounded by modern architecture.
I'm really sorry I will never get to see that building in person!
But on to prong 2: the sculptor of the statue. His name was Alphonse Pelzer (I've also seen his name variously spelled Alfons, Alphons and Alfonso. He was a German-born sculptor who worked for the W.H. Mullins Company in Salem, OH. The company made allegorical architectural metalwork, statuary and weathervanes. I believe Alphonse had a twin brother Hubert with whom he worked, too. By 1898 they had formed their own company, The Pelzer Art Works, and manufactured wooden church altars, pews and the like. He returned to Germany in 1899 because of ill health and died that same year in his homeland.
When Alphonse was charged with creating the Old Prospector sculpture, he used a photograph of a Denverite named Colonel John William Straughn. Which brings me to prong 3: the model.
Straughn was some character! He was born just a couple of hours from my hometown, in Putnam, Indiana, in 1842. He had quite the checkered past, beginning life on a farm with only basic schooling. He served in the Union Army during the Civil War and was wounded, though not seriously. After an honorable discharge in 1864, he re-enlisted and served until 1865, exiting the military as a second lieutenant. Remember that rank.
He then married and had several children. I saw mention of five kids, and also ten kids. Knowing what a storyteller he became, I tend to believe the ten was probably an exaggeration of Straughn himself in later years.
He lived in Dodge City, KS, where he became the courthouse cleaner, but was also charged with coroner duties there, moving 27 graves from Boot Hill. He was acting jailer in Ford County, KS and also did coroner work there. He made repairs to the courthouse and worked as a prison guard during Bat Masterson's tenure in Dodge City.
Straughn showed up in Colorado after 1884. He did some prospecting, but he also had a blacksmith/wheelwright shop in Black Hawk, CO. He founded the Beverly Gold Mining Company, too. He eventually came to Denver.
In addition to his interesting work background, he had an intriguing look: long hair and beard, long black coat, shiny black boots. People began calling him Colonel because he "looked like a Southern gentleman" as he walked the streets, despite never having achieved that rank IRL. Apparently, folks would stop him and ask to take his picture. All the stories indicate he loved the attention and loved telling stories to people. He was locally famous in Denver and was asked to pose for a full-length photo so that Pelzer could make his sculpture from the image. Of course, he agreed.
Straughn died in 1908 in Denver after a protracted illness. Interestingly, his last words were, "I have made a failure of everything from a financial side that I have ever undertaken, down to posing for a prospector."
Well, I hope you stayed with me down that particular rabbit hole. I certainly didn't set out to have this long a blog post, but I kept uncovering interesting bits to tell you. I also hope you enjoyed it and even learned a thing or two!
Photo for No Apparent Reason: